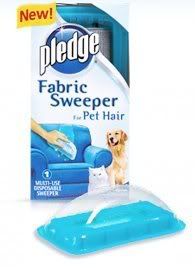 Three years ago I gave in and allowed my girls to adopt a yellow labador puppy, who could resists those big brown eyes begging for you to take him home. Had I of known then what a pet hair nightmare I would have because of this cute little furball I might of changed my mind. Now Max is a beloved member of our family and over the last three years I have not found a great way to remove his pet hair from my furniture, other than the standard peel and stick lint rollars.
Well three years later and adding up the costs I have spent on sticky lint rollars that only worked half as well as they should of, I am beginning to think purchasing stocks in the lint rollar might of been the cheaper way to go. After hearing my disgust over pet hair in my home a friend of mine suggested that I try the new Pledge Fabric Sweeper that she had seen on TV.
Being skeptical and trying several products in the past I relunctaly headed to Walmart to see if I could find these. In the cleaning section at Walmart I was able to easily find a box that contained four pods for removing hair at $4.62 per box.
Directions for Use:
According to Package directions you are to move the pods side to side on upholstered furniture using mild pressure. Moving the pod side to side in strokes about 8-10 inches in length in the direction of the arrow on the pod itself.
The Pod is also self cleaning meaning all the fur is contained inside the pod so simply going in one direction it picks up the hair and when you move in the opposite direction the second brushes clean off the first brushes so they are ready for another round of cleaning.
If you do find that pet hair is building up on the brushes on the pod just repeat the side to side motive a few times to allow the brushes to clean themself.
Where to use the Fabric Sweeper:
Pledge claims that you can use this product on all upholstered items such as couches, chairs, and more!  Also claims it is perfect for removing hair off of pillows and cushions and car interiors which is a huge plus!
Being a pet family who are the proud owners of a couple of cats and one shedding monster of a yellow lab I as anxious to try this out to see how well it really worked. In my living room we have a maroon wingback chair that for some reason is my dog's favorite place to lay, now you can imagine what a dark maroon chair with a yellow dog fur on it will look like GROSE! So I set off to try it. The main cushion on the chair was literally covered in fur, after about a minute of going side to side with pod I was happily surprised to say that the cushion literally looked brand new. Never had my chair been so clean, not wiith vaccuming, not with our lint rollars. This was the first time in years you could tell this was actually a marroon chair and not white!
To say this product did just as it stated is an understatement, for those of you pet lovers I honestly can say you cannot live without this! Each pod last in my household about 4-5 days and that is cleaning daily two wingback chairs and couch completely. Not only was this product easy to use and understand, very durable, but this actually did what it was set out to do and that was remove the unwanted pet hair.
Powered by Max Banner Ads
Related posts: