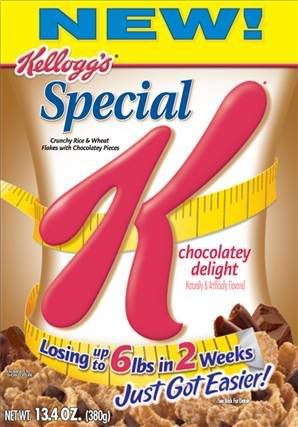 Now as stated previosly I have made 2009 my year of eating and living healthier, but my dilemna came with how do I satisfy my chocolate cravings without ruining my healthy lifestyle? Well when shopping at my local Walmart I noticed Special K Chocolatey Cereal, I wonder if this cereal could be good as it looked on the box.
Breakfast is one meal of the day I have a hard time fitting into my lifestyle and so I was hoping this might be my cure. The Kelloggs Special K Chocolatey Delight comes in a 13.4 oz box in light brown and wh. On the front of the box is pictures the actual cereal with huge pieces of dedicant chocolate all through it. The front of the box claims you can lose up to six pounds in two weeks by following the diet on the back of the box.
Now getting home and grabbing my cereal bowl I just had to try this out for myself, being a chocolate expert I was bracing myself for the worse. Now I have to be honest this cereal does not have a overwhelming chocolaty taste like you would expect with all of those chocolate pieces, but with some cold milk I really enjoyed the taste the texture of the Special K flakes.
Over the last couple of weeks this has become my cereal of choice but not only that I also will eat it when I am getting those cravings for something sweet, or when I went to binge late at night. The cereal is delicious and very filling and has helped me overcome my overactive sweet tooth. Special K offers this great cereal in other flavors as well such as Red Berry, Almond Vanilla, Yogurt and Berry Flavors. We have also tried the Red berry which was also very delcious with large pieces of red strawberries throughout the cereal.
Nutrition Facts -
Serving Size: 3/4 cup
Servings Per Container: about 12
Calories: 120 (160 with fat free milk)
Total Fat: 2 g
Sodium: 180 mg
Potassium: 75 mg
Total Carbohydrates: 25 g
Sugars: 9 g
Protein: 2 g
- Vitamins – Cereal With Milk
Vitamin A 15% 20%
Vitamin C 35% 35%
Calcium 0 15%
Iron 45% 45%
Vitamin D 10% 25%
Thiamin 35% 40%
Rioboflavin 35% 45%
Niacin 35% 35%
Vitamin B6 35% 35%
Folic Acid 35% 35%
Vitamin B12 35% 45%
- Ingredients –
rice, whole grain wheat, sugar, chocolatey chunks )sugar, partially hydrogenated palm kernel oil, cocoa processed with alkali, cocoa, soy lecithin, artificial flavor, processed with alkali, cocoa, soy lecithin, artificial flavor, milk), high fructose corn syrup, salt, malt extract, natural and artificial flavor, ascorbic acid (Vitmain C), reduced iron, niacinamide, pyridoxine hydrochloride (vitmain B6), riboflavin (vitamin B2), thiamin hydrochloride (vitmain B1), vitmain A palmitate, folic acid, vitamin B12, Vitmain D
The cereal is ver affordable I am seeing average around $3.75 a box and if you check your Sunday ads there has been coupons lately to help take a $1 off that price. The base of the cereal is your normal Special K Cereal so if you were a fan of regular Special K then you will love the new variety they offer with the new flavors. Great Healthy cereal that helps to keep you full and offers you a healthy alternative to dulging into chocolate.
Read more of our Product Reviews on our Product Review Site Frugal WAHM Product Reviews! Or Sign up as a Product Reviewers! We love having WAHM Product Reviewers!
Powered by Max Banner Ads
Related posts: